I love Thai curry. Well any curry really but Thai curry is one of my absolute favourites. Ever since I spent time in Thailand more than 20 years ago. It wasn't until recently however when I visted Bangkok that I realised that most Thai food is made with fish sauce. Now obviously I won't eat fish sauce but I did want to create a Thai curry that would have an authentic flavour as well as be super nutritious. So first I had to make a paste to use in the curry.
Thai green curry paste
1/4 cup of cashew nuts soaked over night
Stick lemon grass
Thumb of fresh ginger or galangal
3 cloves of garlic
Green chillies (how hot do you like it?)
Shallot or small onion
10 x Kafir lime leaves
2 x limes
1/4 tsp coriander spice
1/4 tsp cumin spice
Bunch of fresh coriander
Bunch of fresh basil leaves
Salt to taste
1/4 cup water
Vegan Thai Green Curry Paste
Blend all ingredients in the blender
Vegan Thai Green Curry
1/2 cup short grain brown rice
Coconut oil or sesame oil
1/2 small red onion or shallot chopped
1 clove garlic chopped
Thumb ginger chopped
1 green chilli
1 red chilli
1/2 punnet of baby corn
1/2 punnet of sugar snap peas
1/2 head of cauliflower
Bunch of coriander leaves
Bunch of fresh basil
Green leafy veggies like pokchoi, tatsoi or spinach leaves
1 can of coconut milk (I used Good Life - nothing but coconut and water)
1 - 2 limes
1 tbsp peanut butter
Tamari or soya sauce
First cook the rice - the curry goes quickly from here and you are wanting your veggies to be just cooked not too soft. In a saucepan heat your coconut or sesame oil. Stir fry the onions or shallots with the ginger, garlic and chilli for about 5 minutes until cooked. Now add your your corn, cauliflower and sugar snaps. Stir fry adding the coriander and cumin powders. Veggies must be firm but not quite cooked.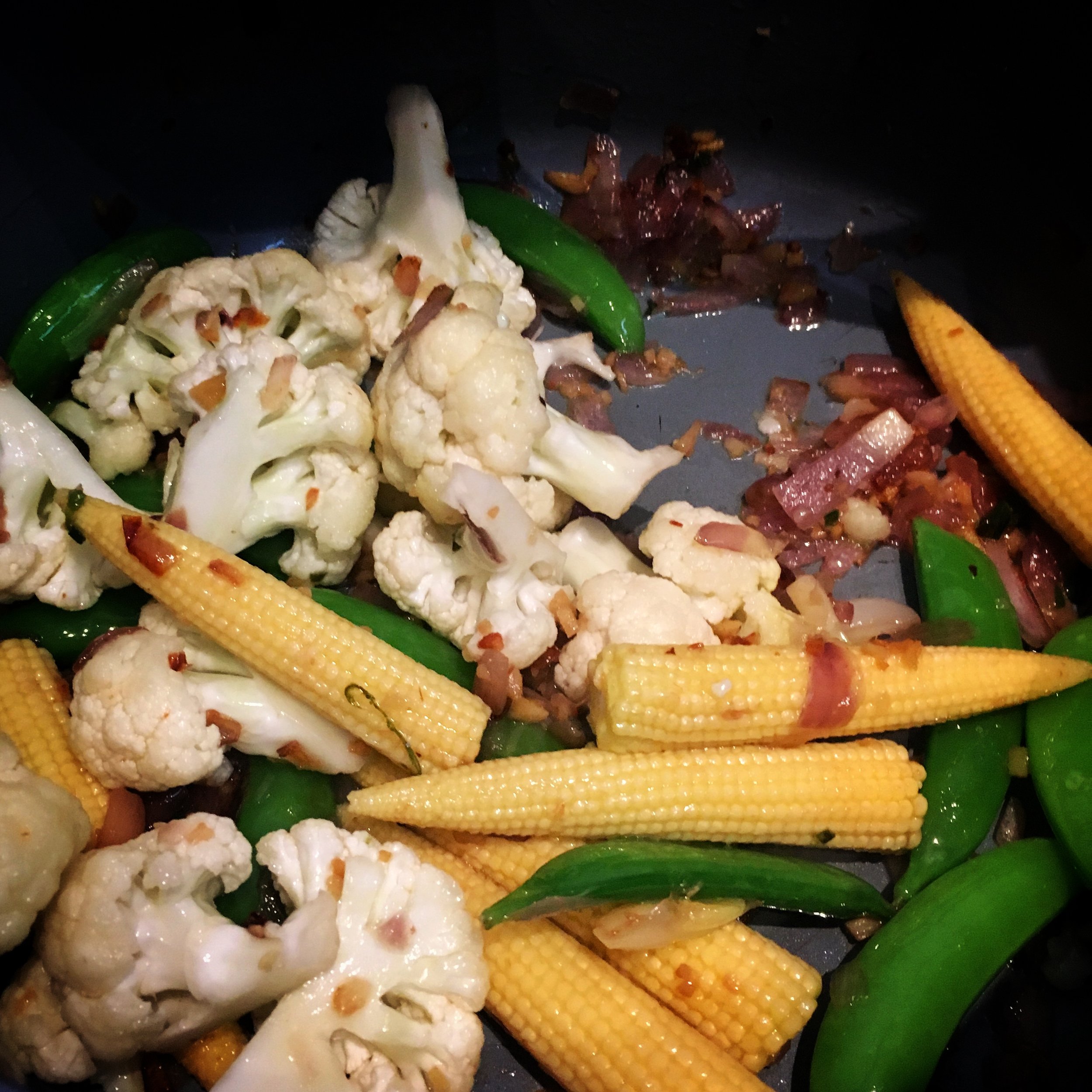 Now add your paste and allow the veggies to absorb the flavours. Add the coconut milk and simmer for about 5 more minutes. Add your tamari or soya sauce, fresh lime juice and the peanut butter. Simmer for 2 more minutes and add your leafy greens and right at the end just as you turn off the stove the basil. Garnish with your fresh coriander and red chilli.